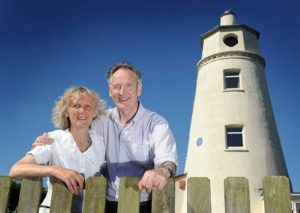 The idea for Peace Reef was developed in 1998 by Doug and Sue Hilton as part of a mission to maximise the wildlife benefits on their 60 acre private nature reserve, where the aims have always been to connect people to the environment for the benefit of both.
At the centre of the reserve lies a forty acre, spring fed Chalk Lake. The soft chalk bed however means that very little weed can grow there and no weed means no underwater shelter or food for aquatic life and in turn, few iconic fish eating birds such as Kingfishers and Great Crested Grebe. In short, a beautiful nature reserve that is seriously underperforming in the benefits it could provide.\n\nPlans were approved for the formation of islands and shoreline slopes to promote the wildlife benefits of the lake but sadly the potential imposition of millions of pounds in landfill tax of defeated this scheme and meant other ideas were needed.
Artificial reef memorials are one of the fastest growing choices for nature lovers and are probably the most beneficial and caring way to help the environment forever because they provide the essential surfaces needed for weed growth and shelter for aquatic life. They additionally offer significant carbon offset benefits to help allay concerns over the CO2 emissions of cremations because every year the weed growth on an artificial reef memorial will potentially sequester more CO2 than farm crops for the same area.
The reasons for choosing an artificial reef final memorial are as varied as the individuals and families making the choice. Rather than passing an urn down to future generations or taking space in a cemetery, this memorial is a true living legacy.
Military veterans, nature lovers, anglers, sailors, divers and people who have been active all their lives or whose lives have been cut short, are comforted by the thought of being surrounded by all that life and action that they will be helping to create going on around them.
Peace Reef Memorials are not subject to tide or wave action and this permits a wide range of memorial shapes and designs from simple urn shapes to more elaborate statutes and plinths. Many would like some form of statue that says something about their loved ones but few cemeteries permit these due to the potential for damage but they are all achievable at Peace Reef.\n\nAshes scatterings are a popular low cost option on this beautiful lake and have significant benefits as a low carbon placement and whichever type of memorial is chosen a certificate showing the exact location means return visits are possible.
Eternal Lake was originally farmland excavated for high quality chalk to use in cement production. Quarrying ceased in the early 1940's with a tunnel being driven under Salt Lane to quarry land to the north. Quarrying well below normal ground water levels meant continuous pumping from 18 metres below the present lake levels. In 1967, the pumps were turned off and the water rapidly recovered to previous levels to form the lakes then known as Buckland Lake South and Buckland Lake North.
The name Buckland is thought to derive from the old from the Old English boc 'book' plus 'land', i.e. This was land held by right of a written charter, as opposed to land held by right of custom.
Buckland Lake nature reserve was formed in 2001 by Doug and Sue Hilton. They added additional land and carried out bank support works and the filling at the eastern to form the present smaller lakes. The scuba diving centre, fishery, café, glamping cabins and function rooms plus wardens bungalow were added to form a visitor centre for members of the public to relax and enjoy the benefits if being connected to the natural environment.
In 2019 permission was obtained to form an underwater reef with cremains for the benefit of marine life. In 2020, Doug and Sue Hilton retired with Mark Kent and Irena taking over. Buckland Lake has since been rebranded as Eternal Lake to reflect the timeless philosophy, with the underwater reef branded as Peace Reef. The aims remain constantly the connection of people to the environment for the benefit of both. Fishing has consequently ceased and a new range of environmental wellness experiences and functions has been introduced.