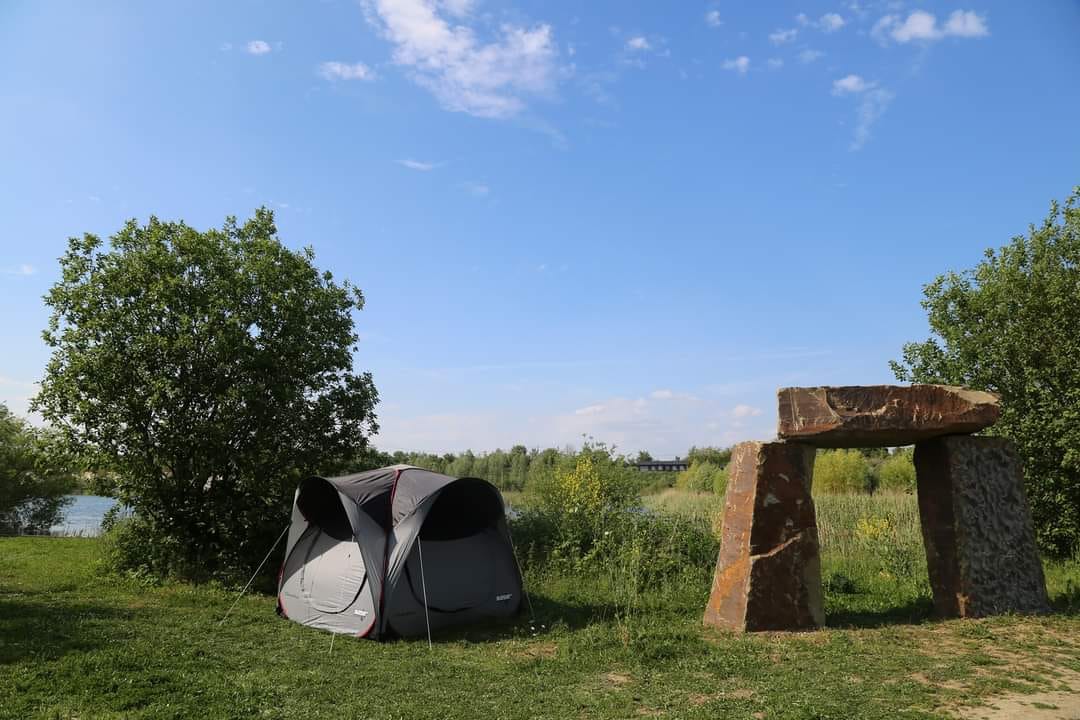 Camping at Eternal Lake Nature Reserve: A Tranquil Retreat
Nestled within the embrace of untouched natural beauty, Eternal Lake Nature Reserve offers an unparalleled camping experience that promises to rejuvenate your soul and connect you with the serene allure of the great outdoors. Whether you're a seasoned camper or a family seeking an escape from the urban bustle, the Eternal Lake Nature Reserve invites you to embark on a memorable journey of relaxation and exploration.
Camping Rates and Accommodations:
At just £15 per adult and £9 per child under 16 years old, the camping rates at Eternal Lake Nature Reserve provide exceptional value for an extraordinary experience. Immerse yourself in the tranquility of the outdoors with a choice of immaculate camping locations, each carefully spaced out to offer both privacy and breathtaking views. The campgrounds are thoughtfully situated by the tranquil lake and near a fascinating stone circle, allowing you to soak in the natural beauty of the surroundings.
Facilities:
While the focus is on experiencing the beauty of nature, the Eternal Lake Nature Reserve ensures that your camping experience is comfortable and convenient. The Pureplanet Cafe block features a shower facility exclusively for campers, ensuring you can refresh after a day of hiking or simply unwinding by the lake. Additionally, two outside cold water taps near the Site Office and Pureplanet Cafe provide a convenient source of drinking water, keeping you hydrated during your stay.
Pureplanet Cafe and Shop:
The heart of the camping experience lies in the Pureplanet Cafe, which opens its doors every day to offer a delectable array of meals and beverages. Whether you're craving a hearty breakfast, a delicious lunch, or a satisfying dinner, the cafe presents a menu that caters to various tastes and preferences. From locally sourced ingredients to healthy options, the Pureplanet Cafe aims to tantalize your taste buds while keeping your well-being in mind.
For those who may have forgotten camping essentials or simply wish to explore a curated selection of camping gear, the adjacent Pureplanet Shop is at your service. Offering a range of items that span from camping gear to wholesome snacks, the shop ensures that your camping experience is seamless and stress-free.
Booking Your Stay:
Booking your camping adventure at Eternal Lake Nature Reserve is a breeze. Simply follow the provided product link to complete your booking online. Once your booking is confirmed, kindly drop the Reserve an email specifying the dates of your stay. Upon arrival, the check-in process is conveniently located at the Pureplanet Shop, where the friendly staff will guide you and provide any necessary information to make your stay unforgettable.
In Conclusion:
Eternal Lake Nature Reserve beckons you to embrace the natural world and forge a deeper connection with the great outdoors. With stunning camping locations, essential facilities, a welcoming cafe, and a well-stocked shop, the Reserve ensures that your camping experience is nothing short of exceptional. Discover the joy of waking up to the gentle rustling of leaves, the soothing sounds of the lake, and the serenity of the stone circle – all while relishing the comforts that Eternal Lake Nature Reserve provides.
Camping Terms and Conditions – Eternal Lake Nature Reserves
Reservation and Payment: 1.1. All camping reservations at Eternal Lake Nature Reserves must be made in advance through our official booking system or authorized channels. 1.2. Full payment for the camping fees is required at the time of booking, unless stated otherwise. 1.3. Camping fees are non-refundable unless cancellation is made at least 48 hours prior to the scheduled arrival date.
Campsite Regulations: 2.1. Campers must comply with all rules and regulations set forth by Eternal Lake Nature Reserves. 2.2. Campers are responsible for their own safety and the safety of their belongings while on the premises. 2.3. Fires are strictly prohibited, except in the designated fire areas provided by Eternal Lake Nature Reserves. 2.4. Consumption of alcohol is not allowed within the nature reserve. 2.5. Quiet hours are in effect between 10:00 PM and 7:00 AM. Please respect other campers' need for a peaceful environment during these times. 2.6. Campers must not damage or remove any natural resources, including trees, plants, or wildlife.
Waste Management: 3.1. Campers are expected to use the waste facilities provided by Eternal Lake Nature Reserves for the disposal of their waste. 3.2. Please use the designated garbage and recycling bins for appropriate waste disposal. 3.3. Campers should ensure that their camping area is kept clean and free of litter. 3.4. Improper disposal of hazardous materials or large items is strictly prohibited.
Shower and Toilet Facilities: 4.1. Campers have access to shower and toilet facilities located behind Pureplanet Cafe. 4.2. Please use these facilities responsibly and maintain cleanliness for the benefit of all campers. 4.3. Report any maintenance issues or concerns regarding the shower and toilet facilities to the Eternal Lake Nature Reserves staff.
Liability: 5.1. Campers participate in camping activities at their own risk. Eternal Lake Nature Reserves will not be held responsible for any injury, loss, or damage to personal property during the camping period. 5.2. Campers are advised to have appropriate insurance coverage for their personal belongings and activities while camping.
Compliance with Laws and Regulations: 6.1. Campers must comply with all local, state, and federal laws and regulations applicable to camping activities at Eternal Lake Nature Reserves. 6.2. Any violation of laws or regulations may result in immediate eviction from the campsite without refund.
Reservation Amendments: 7.1. Any changes or amendments to camping reservations should be made at least 48 hours prior to the scheduled arrival date, subject to availability and any applicable fees.
By proceeding with the camping reservation at Eternal Lake Nature Reserves, campers acknowledge that they have read, understood, and agree to comply with the above terms and conditions. Failure to adhere to these terms may result in eviction from the campsite without refund.
---