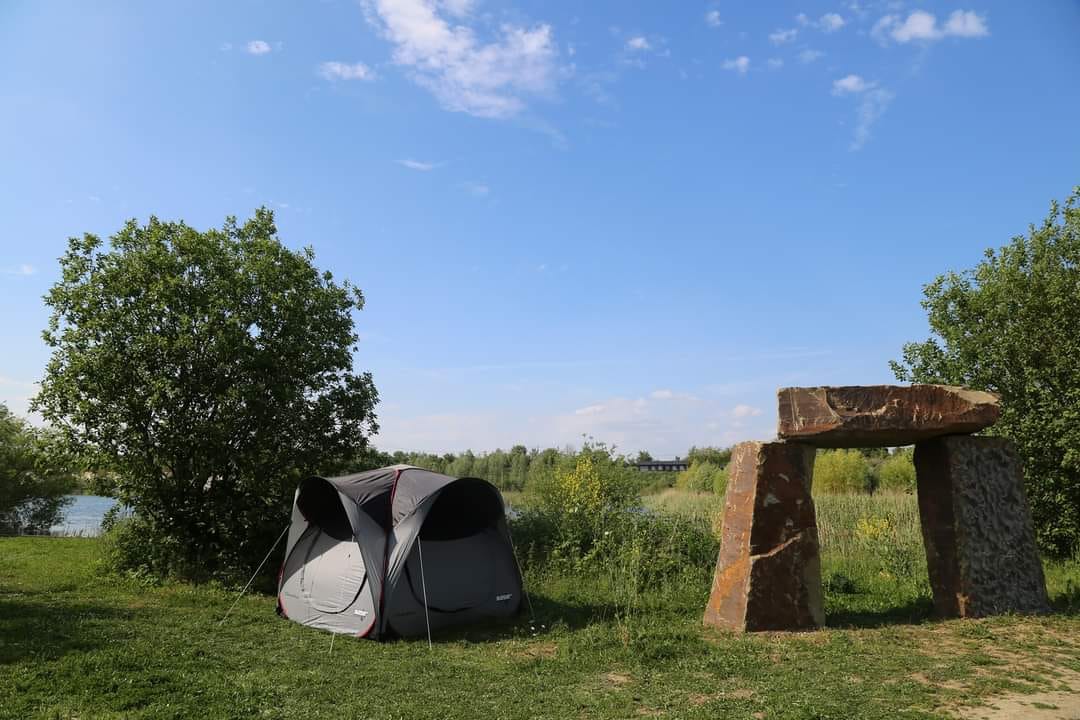 Have a well earned rest in the heart of nature
---
The Swan £145 per night minimum 2 nights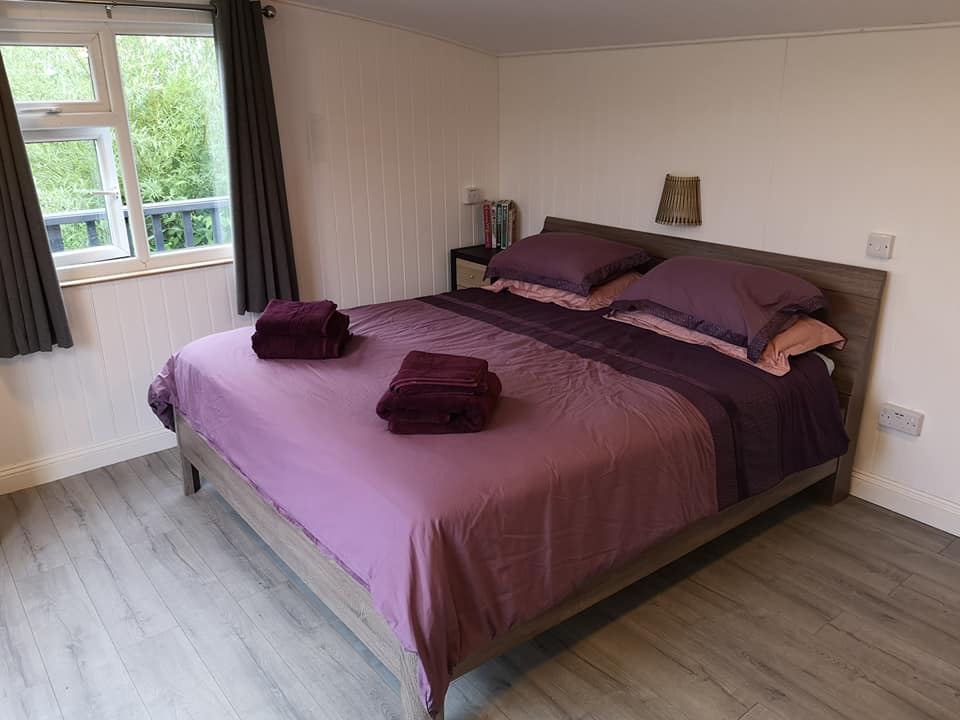 ---
---
The Kingfisher – £145 per night, minimum 2 night booking.
'Kingfisher' is our first glamping cabin, built in 2017 with very high standards of insulation for all year round comfort, mains electricity and on-suite bathroom with walk in shower.
Kingfisher sleeps two adults in romantic comfort with stunning lake views and amazing sunsets within our 50 acre nature reserve. Up to two children can be accommodated but please call us first if you would like to bring children before booking as the cabin is primarily set up for just two adults.
If you are looking for a glamping cabin like no other, then this is for you. Our idea was to provide not only something for nature lovers seeking that special glamping experience but also for those of us less mobile, or recovering from illness that need to connect to nature for healing. In the cabin you will find a full range of features up to wheelchair standards and a dedicated parking bay. This bright spacious glamping cabin is purpose built to our own designs and specifications and not constrained by a shepherds hut chassis.
'Kingfisher' is set overlooking our lake and you are free to roam around our 1.5 mile long nature reserve walk and other meandering walks to find our stone circle and cafe and shop. Check out the events page too to see if there is anything on during your stay!
Our location near the M2 motorway makes this an ideal stopover for visitors to London or Europe as well as for bird watching, cycling and walking the area. RSPB Cliffe Pools is at the end of the road and nearby historic Rochester just a few miles away.
For those who want to engage with the great outdoors, sit outside on the veranda for meals or watch the star filled skies with wildlife all around.
Fully functioning kitchenette with microwave, toaster, kettle and fridge, plus hot water and electric heater for all year round comfort. Don't forget the zip-link divan beds specially made to a lower than normal height for ease of sitting on with pattern coordinated sheets and duvet. Two outside chairs are provided and breakfast table and folded padded chairs for greater comfort. Inside, there is a seating area with two armchairs and the beds are a big favourite for resting on or reading on whilst looking at the view.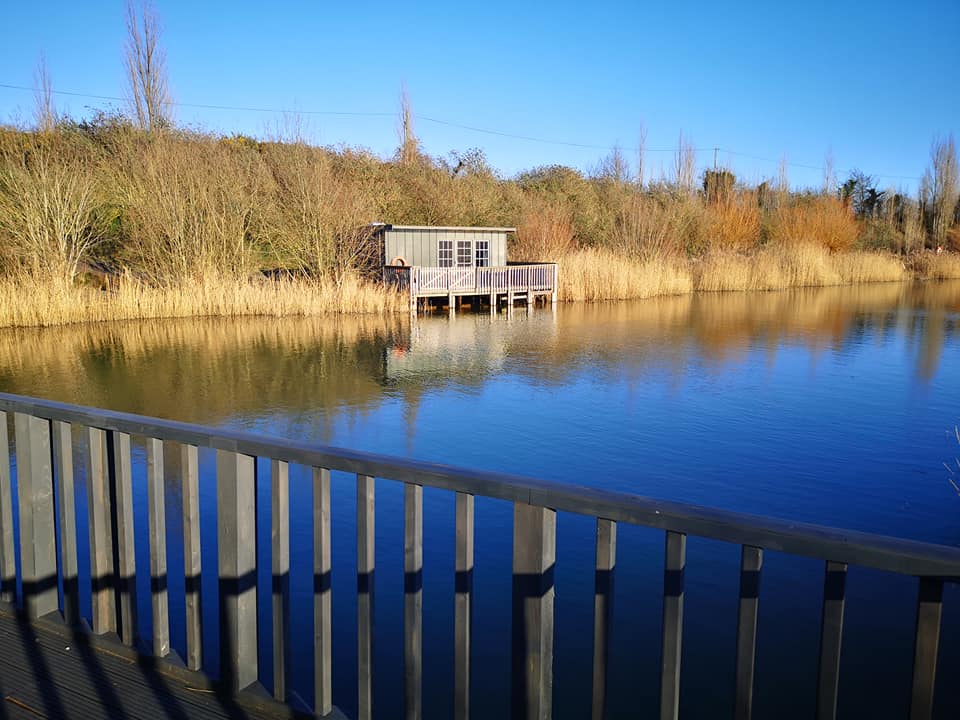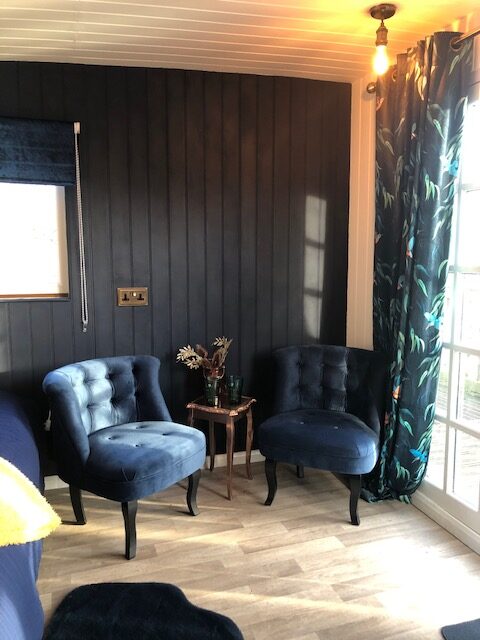 ---
---
---
How to book?
Go on treat yourself you deserve it! Simply email us at info@eternallake.org with the dates you would like to book and we will reply with availability.
Rules do apply, which include no alcohol, fishing , foraging, swimming or going in the lake.
Full terms and conditions here:
Please ensure you read and fully understand these booking terms and conditions. If anything is unclear, please contact us so we can explain in further detail to avoid any misunderstandings. Bookings are subject to the following terms and conditions.
A contract between you and the owner (Buckland Lake Ltd) will come into existence when payment is received and a booking confirmation is issued showing the confirmed holiday dates. The contract binds you & all the members of your party. It is your responsibility to ensure that all members of your party accept the terms of the contract set out in these terms & conditions of booking. Failure to disclose all relevant information or comply with these terms may lead to termination of the contract & loss of the booking.
A non-refundable 25% deposit of the holiday cost is payable at the time of booking. Bookings made less than six weeks before your arrival date must be paid in full, plus the £150 refundable damage deposit (if requested).
The balance must be paid no later than six weeks before the commencement of your holiday. If the balance is not received by the due date, then your holiday will be treated as a cancellation and the you will remain liable to pay the balance of the rent.
All cancellations must be notified in writing. If you cancel your holiday more than 6 weeks before it is due to start, then your deposit will be forfeit. If you cancel less than 6 weeks before the holiday, then the full balance remains due and is not refundable.
We strongly advise that you take out comprehensive travel insurance to cover cancellations. If you choose not to, then you accept responsibility for any loss that you may incur due to your cancellation.
Your booking will not be cancelled by the owner except in exceptional circumstances beyond our control. Notification will be given of the cancellation as soon as possible and we will promptly refund all payments made for your holiday. Our liability for cancellation will be limited to payments made to us.
No parties or events – the maximum number of persons using the accommodation at any time must not exceed 2 persons and only those listed on the booking form can occupy the property. We reserve the right to terminate the booking without notice and without refund in case of a breach of this condition.
Bookings cannot be accepted from persons under eighteen years of age.
The owner reserves the right to refuse a booking without giving any reason.
We or our representatives reserve the right to enter the property at any time to undertake essential maintenance or for inspection purposes.
Tenancies normally commence at 1pm unless otherwise agreed and guests are required to vacate the rental by 11am on the day of departure. This allows the accommodation to be thoroughly cleaned and prepared for incoming guests.
Pets for the Kingfisher Pet Friendly Glampod:
-Only 2 pets are allowed at one time
-Please don't let pets onto the furniture, especially sofas and beds
-Guests are responsible for cleaning up after their pets
Smoking inside, using drugs & alcohol, fishing, swimming and foraging, are all strictly forbidden at Eternal Lake Nature Reserve. This includes vaping or smoking, consumption of drugs or alcohol anywhere inside the premises will result in immediate termination of occupancy and forfeiture of all payments. Alcohol is strictly banned everywhere (inside and out) but smokers and vapers can do this outside so long as it does not disturb others and no litter is left behind. This must be strictly adhered to and any damage or extra cleaning caused by pets or smoking will be at the expense of you.
Damage deposit (if taken) – In making a booking you accept responsibility for any theft, breakage or damage caused by you, pets or any member of your party and agree to indemnify us in full for any loss that we may incur as a result. A security deposit of £90 is required and will be returned within 3 days of the end of your holiday, less the cost of damage/breakages.
Damages and breakages – please treat the facilities & accommodation with due care so that other guests may continue to enjoy them. If you notice something is missing or damaged in your accommodation, please let us know immediately so that we can take the appropriate action. If there has been any damage or breakages during your stay, we would be grateful if you could report them promptly, especially before check-out. The accommodation will be inspected at the end of the holiday & you may be charged for any loss or damage.
Please do not move any furniture from one room to another.
Please remove shoes before entering the property.
Please lock the doors and close the windows when you leave the property unoccupied.
Please make sure you switch off lights, heating, air conditioning or any electrical appliances when you go out – we're an eco-friendly place.
Please don't take any bath towels outside the property.
The owner reserves the right to make a charge to cover additional cleaning costs if the client leaves the property in an unacceptable condition.
Please note that if any keys issued are not returned at the end of your stay, then the cost of replacement will be charged to you.
The client may in no circumstance re-let or sublet the property, even free of charge.
The owner shall not be liable for any temporary defect or malfunction of any equipment, machinery or appliance in the building, grounds or hot tub/pool.
No compensation will be given for any temporary outage of electricity or water.
The owners are not responsible for the loss of any personal belongings or valuables of the guest.
All inventory must remain in the property and not be taken to another property.
Swimming, fishing or going in the lake, foraging, BBQs, camping and open fires are strictly forbidden unless by prior agreement.
Guests are responsible for the safety and security of their children at all times. Never leave children without adult supervision.
Please park your vehicles in the designated parking space, ensuring cars do not block access to other properties. Parking is limited to 2 vehicles.
Amplified music is not allowed outside and quiet time where no music is allowed and we would kindly request noise is kept to a minimum is after 10pm and until 7am.
We reserve the right to terminate a holiday without compensation where the unreasonable behaviour of the persons named on the booking (or their guests) may impair the enjoyment, comfort or health of others.
Candles are not allowed inside the house.
Check-out – You must check out by 11am.
Any problem or complaint which the client may have concerning their holiday must be immediately reported directly to us/our representatives and we will endeavour to put matters right. Any complaints not reported to us/the property manager at the time and only reported after the client has returned from holiday will not be considered by the proprietor.
We reserve the right to make reasonable amendments or additions to these terms and conditions without notice.
This property is privately owned and is our home. We expect all guests to enjoy the facilities and treat the property with the same respect that they would with their own house.